Eco-friendly transporter 6.1 with a lot of potential
With 4,350 vehicles built, the e-transporter based on the T6.1 was an extremely successful cooperation project with VW Commercial Vehicles that ended on schedule with the launch of the ID Buzz in 2022.
However, due to its great success and the many arguments in favor of the T6.1, especially in the business customer sector - such as in the trades and commerce - we have decided to provide even more conversion kits for our customers. This is because maximum storage space, as well as a wide range of conversion or superstructure options such as tippers, refrigerated trucks, and cherry pickers, make the Transporter 6.1 virtually without alternative in many respects.
New is the possibility to convert almost all versions of the Transporter 6.1:
short or long wheelbase
with or without a high roof
Chassis with and without special bodies
The only requirement is that the base vehicle is a diesel with a DSG transmission.
The electrification kits, which are limited in number, consist among other things of a battery and powertrain and replace the conventional drive. Conversion and maintenance is carried out by us in Kempten. Additionally, maintenance can be carried out by one of 300 Volkswagen Commercial Vehicles service partners throughout Germany.
The price for the conversion kit is €19,900 net, and installation and registration costs from €3,950 net (depending on the base vehicle).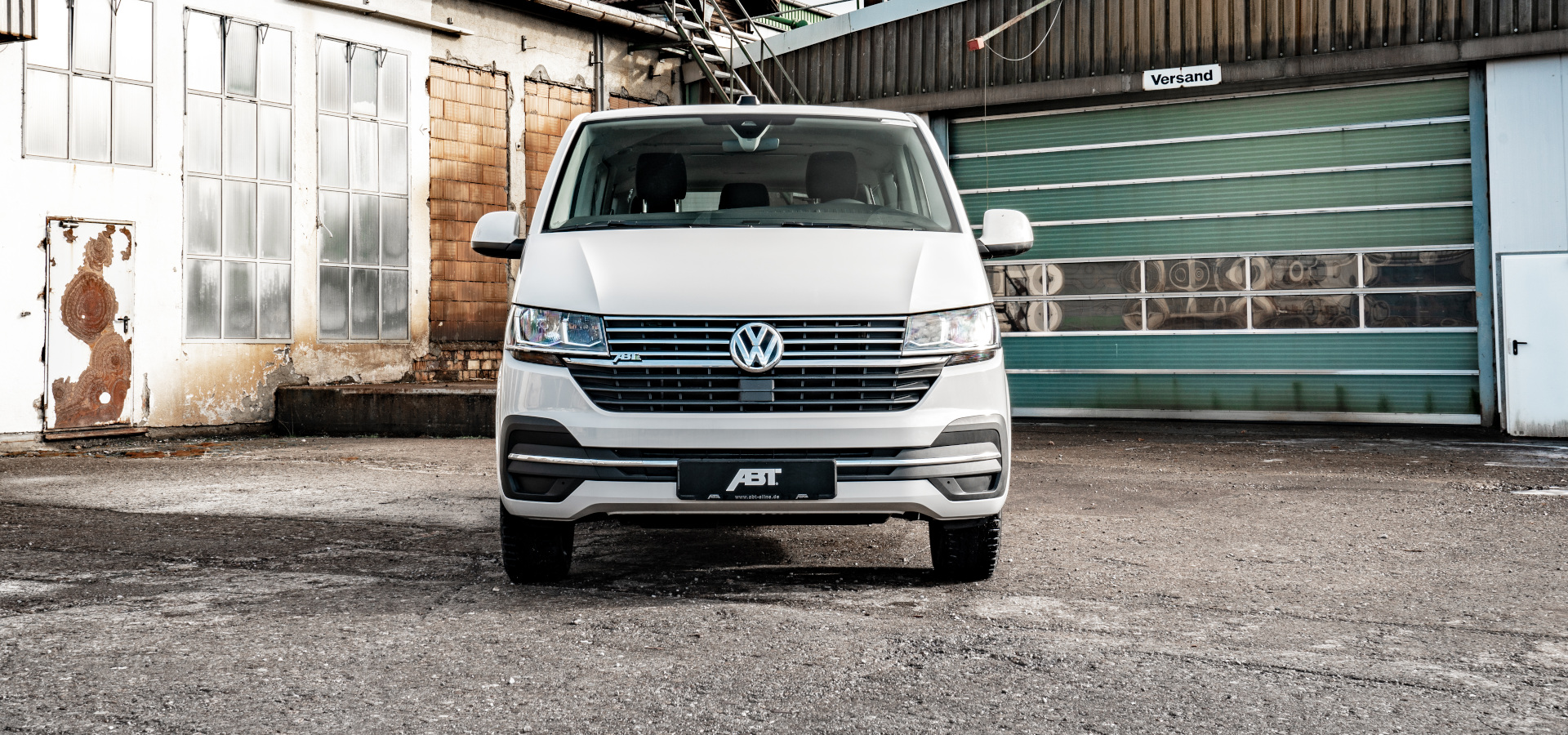 Your advantages at a glance
Emission-free drive: Especially for frequent trips in inner-city areas - also given possible driving bans.
Extensive base vehicle options: The Transporter 6.1 not only offers more storage space than many of its competitors, but its conversion options are also extremely diverse.
Fast delivery: The conversion takes place in just a few days with the existing base vehicle directly at ABT e-Line.
Key figures for the e-Transporter 6.1
| Performance | V/max | Range | Battery | Charge time |
| --- | --- | --- | --- | --- |
| 83 kW | 90 km/h | 138 km (WLTP) | 37,3 KWh | AC (7,2 KW): 5,5 hours/ DC (50 kW, 80%): 45 min |
| 83 kW | 120 km/h | 121 km (WLTP) | 37,3 kWh | AC (7,2 kW): 5 hours/ DC (50 kW, 80%): 45 min |
| | | | | |
| | | | | |